On behalf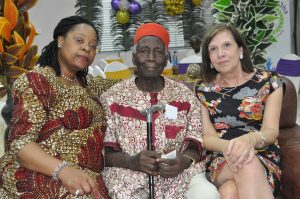 of the Management and Staff of Nchekwa Oha Advocacy Foundation we wish to convey our heartfelt sympathy to the Ikedife family on the Death of  Dr Chief Dodize Ikedife (Ikenga Nnewi) and  the patron of Nchekwa Oha Advocacy Foundation.
As human, we wish to live longer but as Christians we must glorify the lord for the transition of this great and God fearing man.
Dr Chief Dodize Ikedife (Ikenga Nnewi) Lived a life worthy of emulation and will be remembered for his up rightness and dedication to saving humanity.
He will be greatly missed by all who came in contact with him during his lifetime.
We pray Almighty God to grant the entire Ikedife family the fortitude to bear this irreparable loss and may his gentle soul rest in the bosom of the Lord. Amen
Nchekwa oha
THE LIFE AND TIMES OF A GREAT MAN, DR DOZIE IKEDIFE by Paschal Candle.
He was Born on August 24, 1932, to the family of Dunu-Ifeneti Ikedife Dunu-Ugochukwu and Ejeagha (Nzewi) Ikedife, Dozie Onyeanusi Ikedife had his education at the University of London and University of Glasgow, Scotland, where he obtained Bachelor of Science in 1958 and Bachelor of Medicine and Surgery in 1959, respectively.
He also obtained a Diploma in obstetrical from the Royal College Ob-Gyn in 1960. He also obtained a doctorate degree in Public Administration from World University, Tucson, in 1983.
He was Senior House Officer, Registrar in obstetrics-gynecology in Stobhill Hospital, Glasgow from 1960-1963; Medical Officer Special Grade, Ministry of Health, Lagos, Nigeria, from 1964-1966; Medical Officer Special Grade, Eastern Region, Enugu, Nigeria, from 1966-1967; founder, specialist-in-charge, City Hospital, Aba, Nigeria, 1967-1970; founder, specialist-in-charge, Specialist Medical Center and Ikedife Hospital, Nnewi, Nigeria, since 1970; reader in obstetrics-gynecology., Nnamdi Azikiwe University College of Health Sciences, Nnewi, Nigeria, since 1995. Examiner in obstetrics-gynecology, University of Nigeria, Nsukka, 1981; Nnamdi Azikiwe University, Awka, 1994; Nigerian National Postgraduate Medical College, 1978-1984; West African Postgraduate Medical College, since 1994.
Ikedife was the first chairman, Community Council, Nnewi, 1972-1975. He was the Honorary Commissioner for Economic Development, East Central State of Nigeria, 1975. First Honorary Commissioner Finance and Economic Development, Anambra State, 1976. He was also the first Special Assistant to first Executive President, Federal Republican Nigeria, 1979-1983.
Dr Ikedife was the member, Nnewi Royal Cabinet, 1972. Co-founder, first chairman, Confidence Newspapers Ltd., Nnewi, 1995.
He established Dozie Ikedife Annual Medal and Prize for Best Graduating Medical Doctor, Nnamdi Azikiwe University, Awka, 1995; and Doctor Dozie Ikedife Annual Prize for Best Student in Community Health, University Nigeria, Nsukka, 1988.
He was Fellow, Medical College Ob-Gyn. (Nigeria), West African College Surgeons, Royal College Ob-Gyn., International College Surgeons (President, Nigeria national section 1987-1995, federation secretary 1991-1994, member executive council 1991-1994, world vice president 1994-1996), Learners Society Nigeria (founder).
He was member of Nigerian Medical Association and was the first Nnewi zonal chairman 1972-1976); Society Ob-Gyn. of Nigeria (executive member 1976-1984); International Society Cardio-Thoracic Surgeons (honorary); Rotary Club International (district officer district 9140), Rotary Club of Nnewi (Charter President 1984-1986; One Star Paul Harris Fellow, Vocational Services Award 1997).
He was a Nigerian obstetrician, gynecologist, researcher. He was awarded first Chieftaincy title (Ikuku Ebu Nkpu) by 14 towns in Nnewi North, Nnewi South, Ekwusigo local government areas, Anambra State in 1980; and equally awarded Honorary Chieftaincy title (Ikenga Nnewi) by the Igwe, the Royal Cabinet, and the people of Nnewi in 1981.
He was also awarded Honorary Chieftaincy Title of Odezuligbo Umueje in 1997. He was elected the National President of Ohaneze Ndi Igbo. During his time as President, He gave Ndi Igbo a voice on National issue. He was the true conscience of Ndi Igbo and always face issues the way it ought to be. He was a true Igbo MAN,who stood on the path of Truth and Justice. He has never been found wanting anytime his views and opinions are needed on any matter of National importance. He was a supreme Leader of indigenous peoples of Biafra and Leader of the Elders Council.
Rest on a great man. We will miss your wise counsel. We will miss your elderly advise but be rest assured we will always live the life you have always wanted us to live.
Rest in Peace Sir. We will meet to part no more. Adieu Sir
Buhari Mourns with the Igbo Community
PRESIDENT BUHARI MOURNS DOZIE IKEDIFE
President Muhammadu Buhari extends heartfelt condolences to the Ikedife family as well as the government and people of Anambra State on the death of their illustrious son, Dr Dozie Ikedife.
The President also commiserates with Ohanaeze Ndigbo on the passing of the former President-General of the pan-Igbo socio-cultural group.
The President joins them in mourning the veteran obstetrician and gynaecologist who spent over fifty years of his life as a medical practitioner, working bravely to save countless lives in the country and charting new developments in the medical field through research.
As a medical practitioner, respected community leader and political actor, President Buhari believes that Dr Ikedife will be sorely missed and honoured for his commitment to the development of his community, devotion to his professional calling, zeal for democratic values and passion for the preservation of Igbo ethos and tradition.
The President hopes that family, friends, associates and the many doctors trained by the elder statesman find comfort and inspiration in his diligence and generosity of heart of giving his best to humanity.
The President prays God to grant the deceased eternal rest and comfort all who mourn him.
Femi Adesina
Special Adviser to the President
(Media & Publicity)
December 12, 2018